Glaucoma is an eye disorder marked by increased pressure within the eye. It is one of the leading causes of blindness in the United States, with two out of every 100 people over age 35 having vision that is at risk from glaucoma. Glaucoma is a disease that damages the optic nerve. Unfortunately, there are no discernible symptoms in the early stages of the disease, and glaucoma-induced damage to your eye is irreversible.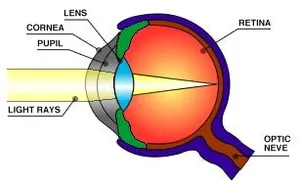 An estimated three million Americans have glaucoma. Approximately 120,000 are blind from glaucoma, accounting for 9% to 12% of all cases of blindness in the U.S.* Half of the people with glaucoma are usually unaware of it until serious loss of vision has occurred. The good news is that there are simple diagnostic tests, which, if performed regularly, can detect the disease in its early stages while serious vision loss is still preventable.

Types of Glaucoma
There are many types of glaucoma. The four most common varieties include:

Chronic Open-Angle Glaucoma

By far the most common type, open-angle glaucoma can steal vision so quietly that you may be unaware of any problem until your optic nerve is badly damaged. Blockages in your eye's natural drainage system build up over time, often as a result of the natural aging process. The first symptom of open-angle glaucoma may be vision that is blurred at the edges, but by this time the optic nerve is irreparably damaged. Acute Angle-Closure GlaucomaThis type of glaucoma occurs suddenly when the iris presses against the drainage area and closes it off. Fluid backs up and pressure rises rapidly. Symptoms of angle-closure glaucoma include blurred vision, severe pain, nausea, vomiting and the appearance of rainbow halos around lights. Immediate medical attention is essential as angle-closure glaucoma can lead to blindness within days. Secondary Glaucoma
Channels within the eye can become blocked for reasons such as infection, injury, diabetes, certain drugs, hemorrhage or tumors. This condition, called secondary glaucoma, may exhibit symptoms similar to angle-closure glaucoma. Secondary glaucoma requires prompt medical attention to prevent
serious vision loss.

Congenital Glaucoma

In rare cases, the drainage system within the eye is poorly formed at birth. The natural elasticity of the infant eye may allow rising pressure to be accommodated for a while, but eventually a problem develops. The infant may be sensitive to light or may tear excessively; the front of the eye may appear cloudy or "foggy." Signs such as these should be reported immediately to your Eye Care Professional.